Have fun and stay safe!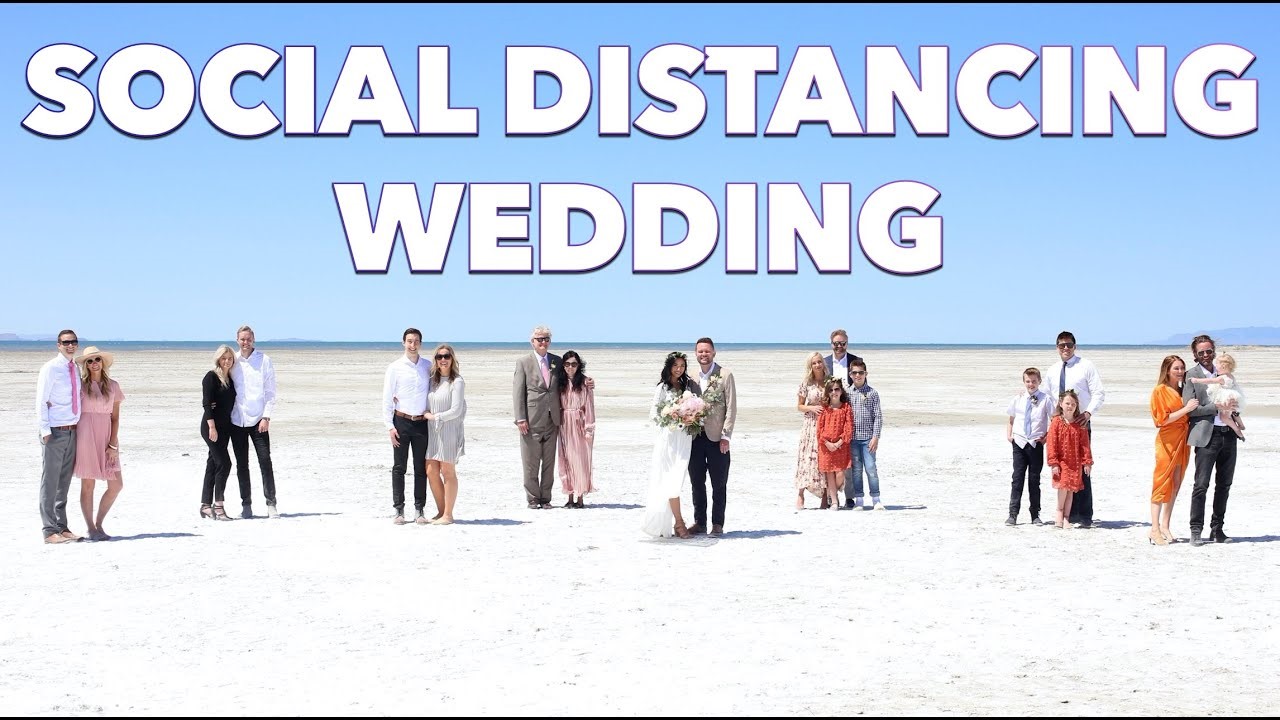 OK, so we have this really big pain to deal with called Covid-19 and unfortunately, it's messing with everyone's dreams for their wedding day. Not to worry … here at Class Act, we're not going to let you go without a day that is magical despite these conditions!
The reality of a mosh pit at your wedding is probably long gone. However, it does give us an opportunity to still let you shine with beauty and creativity. For any of you who might've been getting a large wedding forced on you, Covid-19 is your friend.
We'd like to share some ideas here for both your wedding ceremony and your reception.
Idea #1: A Micro Wedding: The big craze right now is Micro Weddings. Basically, you take a small group of your "inner sanctum" people and make it special for them and you. This style of party gives you a lot more options because it is a smaller group. A Micro Wedding can be done with social distancing much easier and guests are more likely to respect your wishes.
Outdoor weddings are always the easiest, but don't forget about Mother Nature; sometimes she doesn't like to play along. Perhaps your venue can create a space and have the guests sit at their tables if need be.
We love this next arrangement for the ceremony. It provides distanced seating for singles and couples seating. Everyone is further away than classic wedding seating, but at a socially acceptable distance.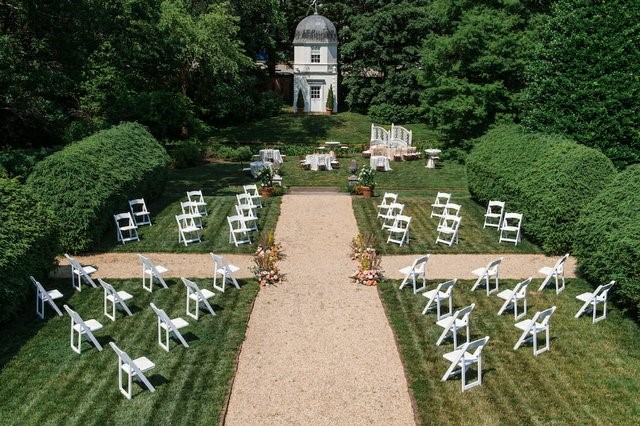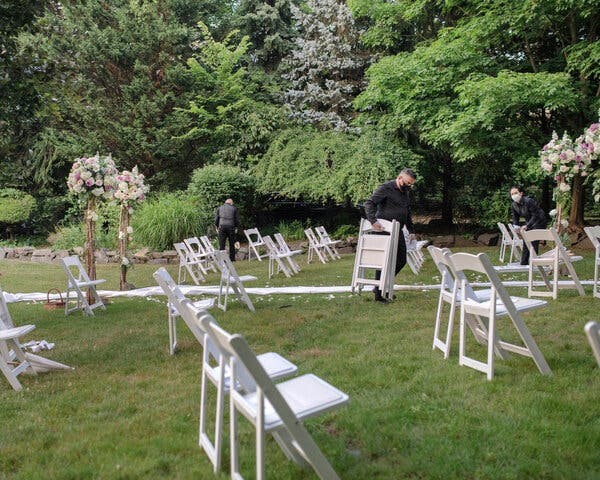 If you're planning a short wedding, one idea is to have a standing Circle Ceremony
where you can also add in a few chairs for any guests who need them.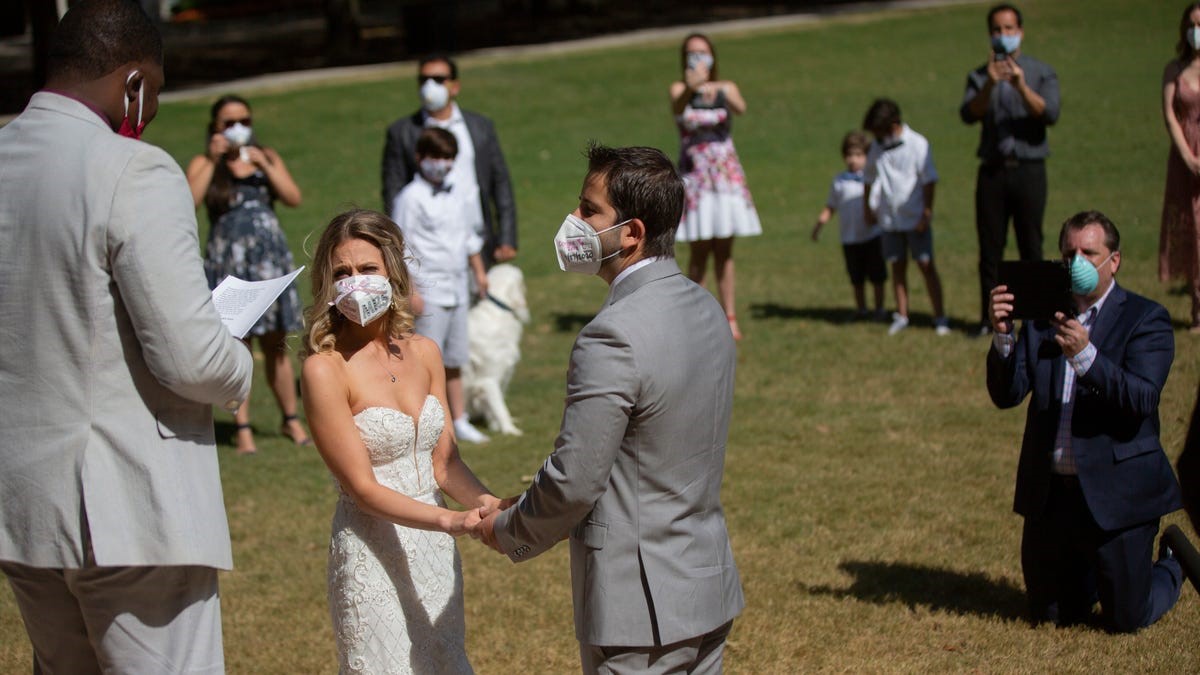 You could plan to stream your wedding like the guy in this picture is doing. You can do this with Facebook, Zoom, GoTo or another video app. It's a great way to allow any friends and relatives who would like to attend, but cannot or should not be there in person, to still celebrate with you.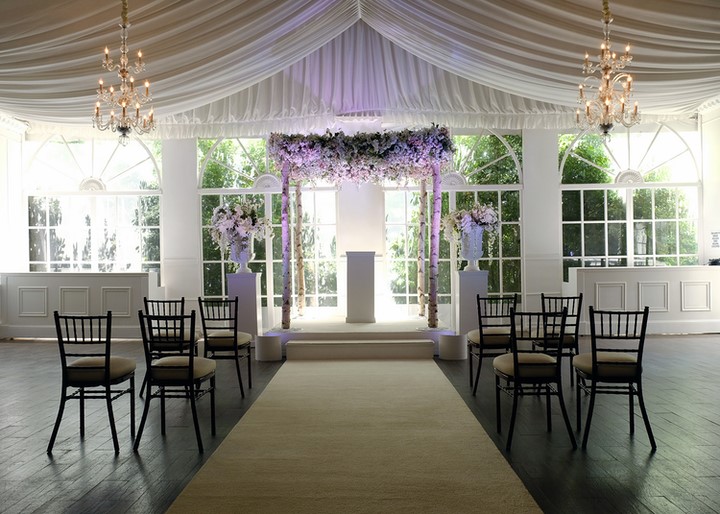 For an indoor Micro Wedding, this setup is beautiful and quaint, while keeping your guests safe. Don't forget about safety for yourselves, too, as nobody wants to be sick on their honeymoon!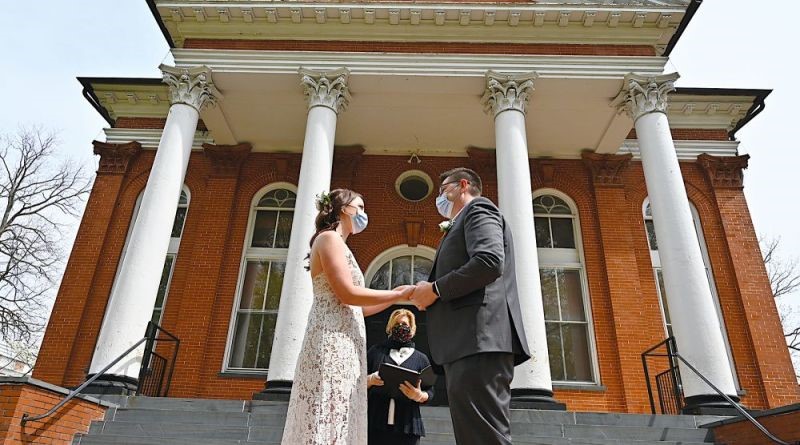 Idea #2: Scenic Outdoor Wedding with Guest Drive-By
Options for a drive-by wedding might be a location with a car port (that would be really cool!) or setting up a nice white tent on the side that you can stand under while the guests drive by.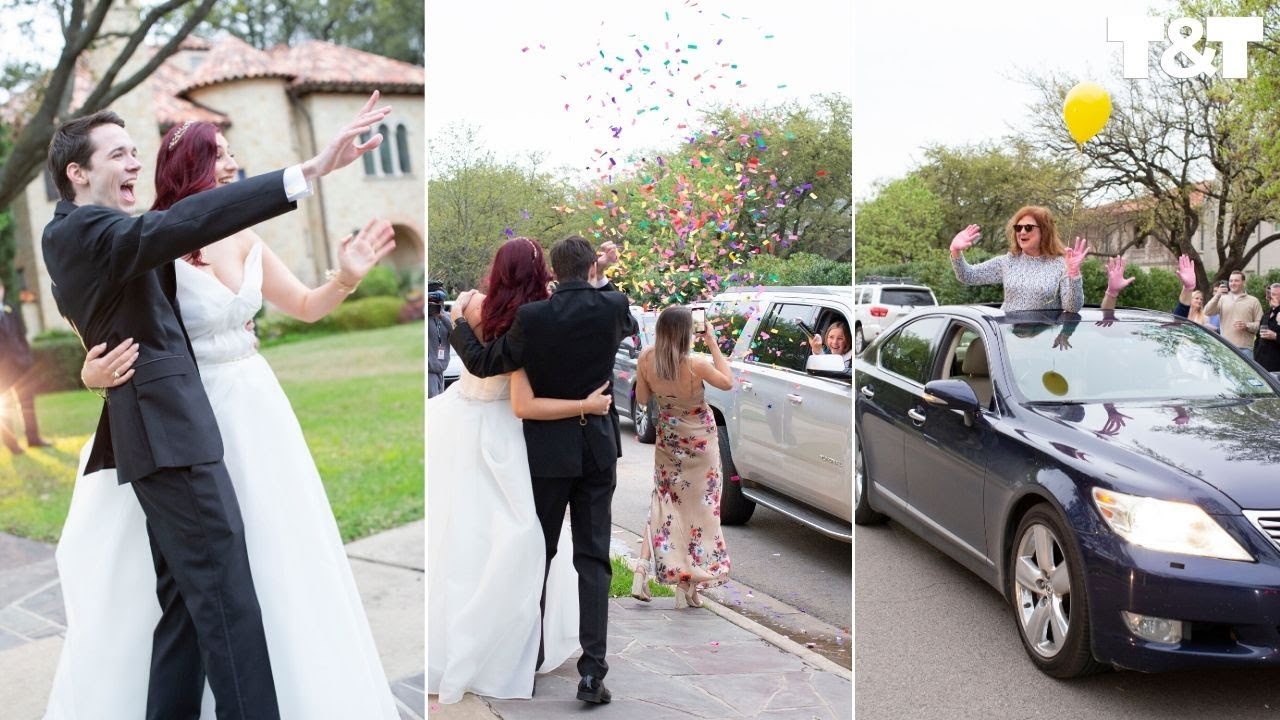 Other great ideas: Station your parents at a table with individually wrapped cupcakes that they can pass to the car on a pizza paddle to keep their distance while sharing a gift. After guests pass the bride and groom, position someone at a gift table to receive their gifts and cards. It might also be good to stream the wedding and then you can tell your guests when to start the wedding parade. Encourage people to decorate their cars!
Reception Ideas:
Lets' face it, if you're having a reception, it's difficult to keep people socially distanced. It is easier to keep people distanced early on and through dinner. The challenges come if you're having a dance. Let's start with seating for dinner.

There is plenty of distance here for singles, and couples could also work, depending on the size of the table.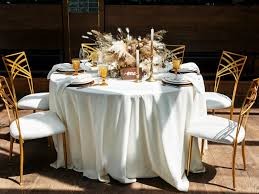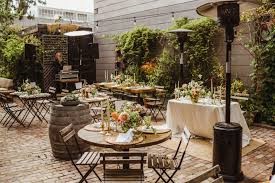 Now let's talk about the dance. One idea is to quadrant off the dance floor and ask them to stay in their section. Or you could ask them to dance by their table.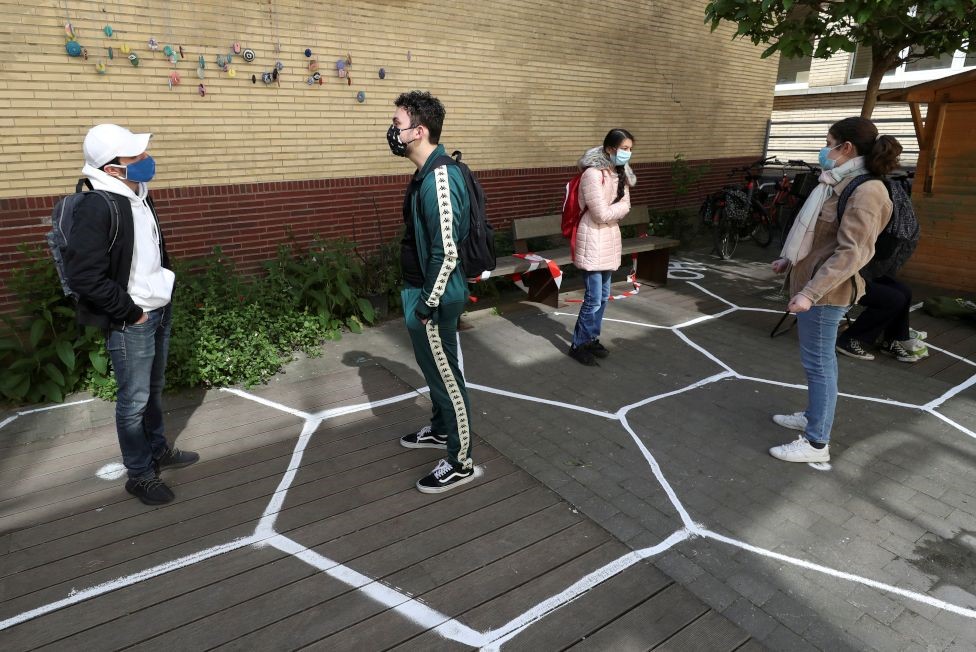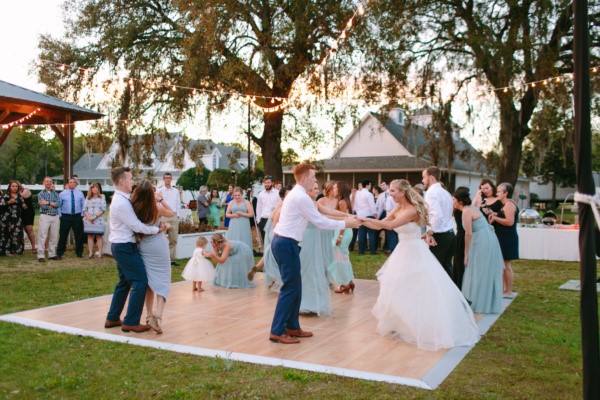 You could play a game where if they go outside their area, they have to put $5 in the honeymoon pot.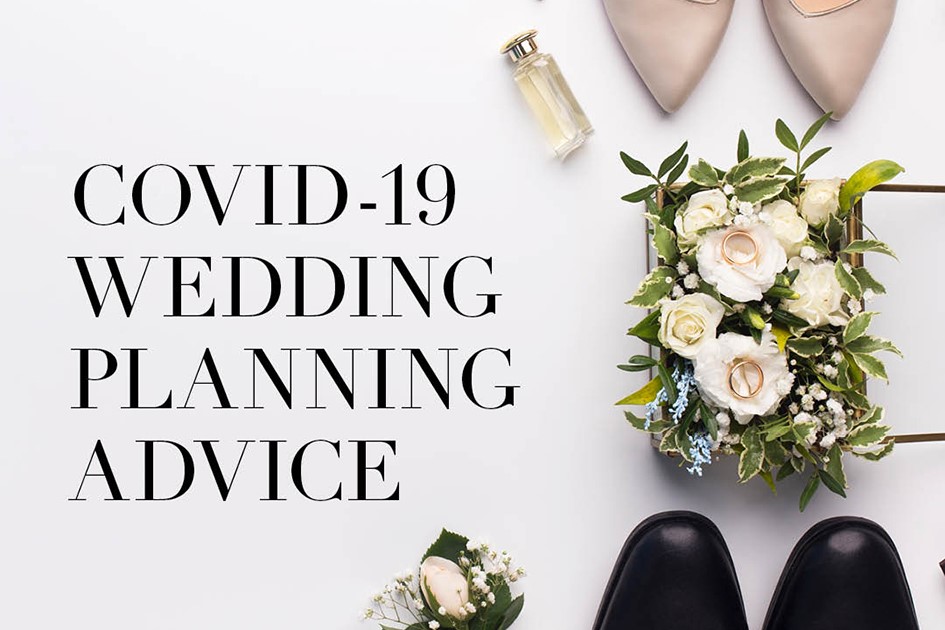 Here, we've only touched on a few possibilities. Call Class Act and let us help make something really special for your wedding!