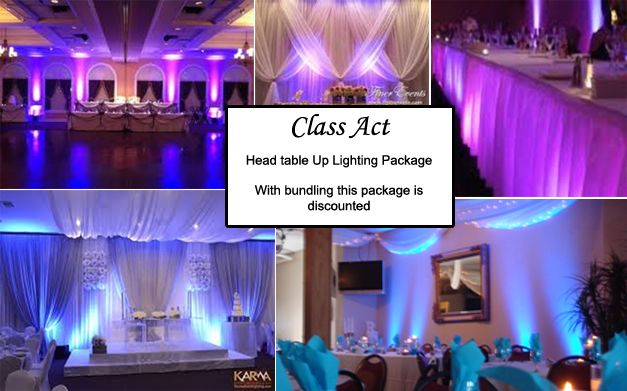 Our Programmable LED Up Lighting units can offer many different colors. We can compliment your color scheme for the wedding. They can also fade from one color to the next, or if you like, flash to the music in the room for the dance. Look what our quad unit system can do.
You can pick one of the colors below for your head table. We recommend that the color be stable during dinner, then it can be either fading or flashing mode during the dance to make the room come alive. Remember to tell the wedding party not to dance on the table during the dance… they will want to.
Class Act can save you a lot of money when you bundle the Head Table Up Lighting with your Class Act entertainment booking. Call Class Act 651-429-6576, we can send you a video upon request.
Our Up-Lighting Choices
Please click an image to view the uplighting selection number.
Additional setup and teardown fees will apply if Class Act is not already at the event supplying entertainment under separate agreement.