The Class Act is a Minnesota DJ service that provides free corporate party consulting and great company party ideas at one low price with no hidden costs. Class Act will organize your company party and provide the perfect solution for your corporate parties. It is so important to have an event that is engaging the audience because some of the guests may not be dancers so we entertain them with the ones that are. We are masters at interacting with the audience and providing fun in many different entertainment forms besides dancing.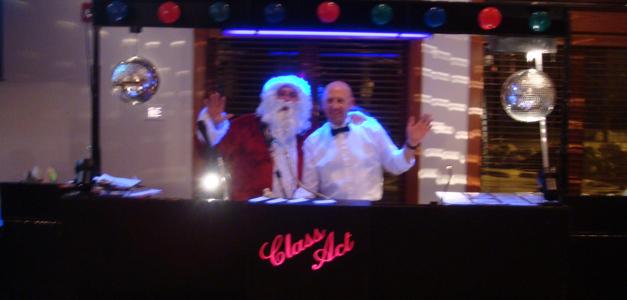 What is the difference between Class Act and other disc jockey services? – Quality!!!
Class Act
Plays your choice of music.
Plays at the volume you choose.
Provides two professional entertainers.
(an MC/Party Coordinator and DJ both dressed in tuxedo attire).
Can provide background music to enhance the theme of the event.
Guarantees the performance in writing
Class Act's
light show will dazzle your guests with a visual atmosphere that will help stimulate them to dance to their favorite style of music.
state-of-the-art audio equipment with four speaker sound is standard.
music library is comprised of all media formats; mp3s, CD's and we can even play your old records.(upon request)
professional party consultants on our staff help develop your party program.
COMPARE
QUALITY, PROFESSIONALISM, PRICE, REPUTATION, CONVENIENCE, DEPENDABILITY and you'll find Class Act is the best insurance to guarantee that your party will be fantastic!
Party Consulting – FREE!!!
When you book with Class Act our experienced professional party planners will help you with the organization of your party. We will develop a personalized show to assure your party is organized and surpasses your expectations. At your event, Class Act will include a MC/Party Coordinator to organize all the events while the DJ concentrates on your guests on the dance floor.
Corporate party planning will include
Exact timing for all events with an option to extend the event
Music format for the evening
Schedule special events such as:

Opening presentation
Coordinating pre-dinner activities
Any toasts or roasts
Coordinating dinner entertainment
Awards presentations
Taking music requests
Special acknowledgements, birthdays, anniversaries etc
Participant dances.
Contests: limbo, twist, or modern dance (free ribbons)
Special program requests
Energy level of the entertainers at your show
Options
It's all included!
What many disc jockey services charge extra for are standard with Class Act. We believe that you only have one chance to make sure your party is the best it can be. Treat yourself to Class Act don't compromise. You can pick every option or just the ones you like.
Standard Options
| | |
| --- | --- |
| Four speaker sound | FREE |
| Tuxedo attire | FREE |
| Cordless microphone | FREE |
| Strobe lights | FREE |
| Mirror ball | FREE |
| Beacon lights | FREE |
| Track light and integrated controller | FREE |
| Area floor illuminator (floor only) | FREE |
| Laser simulator* | FREE |
| Fogger* | FREE |
| Complete lighting package | FREE |
| Expanded music selection | FREE |
| Bubble machine* | FREE |
If you can imagine another option….just call us.
*upon request
Song List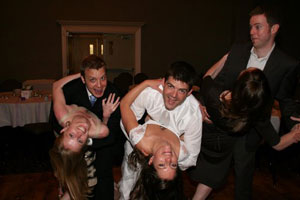 Class Act's Huge Music Library has music for everyone, inclusive of:
Big Band
Modern Dance
Hip Hop
Club
Gospel
Specialty Dance
Motown
Nostalgia
Polkas
Waltzes
Country
50s 60s 70s 80s 90s
Modern Rock
Ethnic
Even though we bring all these types of music to your show, we ask: what are your favorite songs? Just make a list and send it to Class Act 45 days prior to your event and they will be there. Therefore Class Act's music library will have your choice of music.
All this is FREE!
References
Class Act is the choice of many professional wedding consultants, party planners, dance hall managers, and service directors. These people see all the different entertainment companies and compare performance on quality, consistency, reliability, and their customer's comments. We will gladly put you in contact with them at your request or you can check out our Testimonials.
OR
Pick any past Saturday night in the last 15 years and we will give you a list of all our customer's we performed for on that night. This assures an unsolicited testimonial to our performance. Now that's confidence!
Just click a link below for some fun pictures!